Armorsmith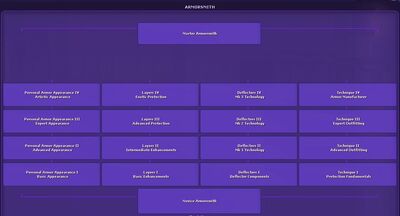 An armorsmith can create the powerful armor seen everywhere in Star Wars Galaxies. The armorsmith is an elite profession, branching off of Artisan.
Skill Points
This profession requires 92 skill points to master, 49 of which go towards prerequisites.
XP requirements to master, including prerequisites:
27,300 General Crafting XP (granted for crafting items obtained in Artisan)
716,800 Armor Crafting XP (granted for crafting items obtained in Armorsmith)
Skill Mods
Armor Assembly
Armor Customization
Armor Experimentation
Armor Types
Assault Armor
Chitin
Composite
Ithorian
Kashyykian
Battle Armor
Ithorian
Kashyyykian
Marauder
Padded
Recon Armor
Ithorian
Kashyykian
Mabari
Tantel
Ubese
Components
Energy Armor Layer
Heat Armor Layer
Cold Layer
Electrical Layer
Acid Layer
Kinetic Layer
Primus Layer
Secundas Layer
Basic Assault Core
Standard Assault Core
Advanced Assault Core
Assault Armor Segment
Basic Battle Core
Standard Battle Core
Advanced Battle Core
Battle Armor Segment
Basic Reconnaissance Core
Standard Reconnaissance Core
Advanced Reconnaissance Core
Reconnaissance Armor Segment
Deflector Shield Emitter Assembly
Deflector Shield Generator - Energy Ray
Deflector Shield Generator - Particle
Deflector Shield Projector Plate
Misc Armor Items
Personal Shield Generator MK 1
Personal Shield Generator MK 2
Personal Shield Generator MK 3
Ubese Shirt
Community content is available under
CC-BY-SA
unless otherwise noted.