Obtaining SWG Client
We can not provide you with SWG Client. You are responsible for having a legitimate Original copy of SWG Client to play with. Each account must have a copy of the cd's to be able to play. Again we do not provide you with the game client, you are responsible for getting that. Any version of the game will work from the numerous version released other then a trial client. You can purchase the gaming cd's for cheap from Ebay, and or Amazon.com.
Overview
The Bloodfin Launcher is a small application used to simplify access to the Bloodfin EMU server. The launcher will ensure that you are always up to date with the current Bloodfin patches, as well as provide access to commonly used links / applications. Yes you need the launcher to play on Bloodfin. You will also need to create your account via our account portal.
Launcher Installation
http://www.bloodfin.net/patch/launcher_setup.exe
The launcher is installed as any other application is, via a Windows installer.
By default, the launcher wants to install to C:\Program Files (x86)\Bloodfin.Net\. It is recommended that you install the launcher to the same drive that you have installed Star Wars Galaxies to. While this is not strictly necessary, it will allow you to take advantage of some of the installation optimizations used by the launcher.
Once the installation has completed, the launcher will reside in %InstallPath%\Launcher.
For example, if you used the default installation location of C:\Program Files (x86)\Bloodfin.Net, the launcher files will be located in C:\Program Files (x86)\Bloodfin.Net\Launcher
Getting Started
Upon initially running the launcher, you will be greeted with a window that looks like this: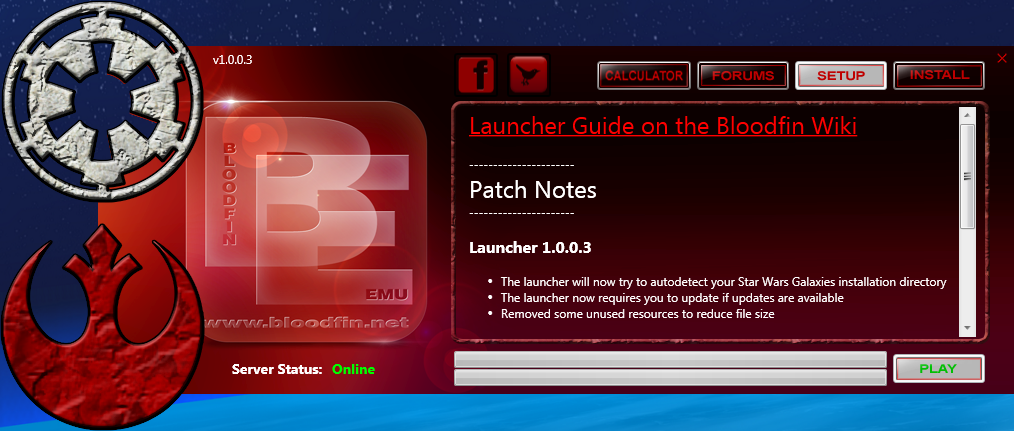 Notice that the Setup and Play buttons are disabled. We get into those next.
Once the launcher is up and running, you need only hit the Install button to install the Bloodfin Emu data. This data will be downloaded and installed to a directory along side the launcher files.
For example, you if the launcher files are located in C:\Program Files (x86)\Bloodfin.Net\Launcher, the Emu files will be installed to C:\Program Files (x86)\Bloodfin.Net\Emu
The installation process will connect to our file server and download all the the data needed. This process is completely dependent on your download speed.
Once this process is complete, you launcher will look like this: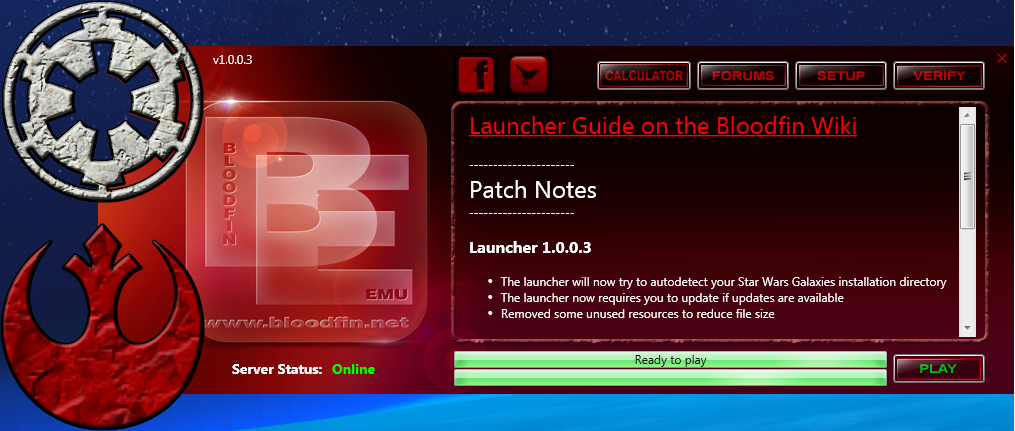 Notice the Setup and Play buttons are now enabled. Before you hit Play, it is recommended that you hit Setup to configure your options (such as screen resolution).
Once you have configured your options you are ready to create your account for Bloodfin!
Account Creation
http://bloodfin.net/bloodfin-portal/
Bloodfin uses an this account creation process so that you can log in from anywhere you go, whether on vacation, a friends house, your Grandmothers house, college, and even work. Just return to the account portal enter your information and renew your IP, but make sure when you return back to your home you enter your information again and renew your IP once again. Please note, you are restricted to 1 account per IP address.
Additional Account Requests
Please email the Dev email address Bloodfingmrose@hotmail.com with a reason as to why you need another account.  A Dev member will make the final call on any additional player accounts.
Migrate your profiles and mods from an existing installation
If you have already been playing on Bloodfin you will likely want to migrate any profile data (UI / hotbars, etc) and mods over to the installation created by the launcher. This is easy.
Navigate to wherever your preexisting Bloodfin installation is located in Windows Explorer. You should see something that looks like this: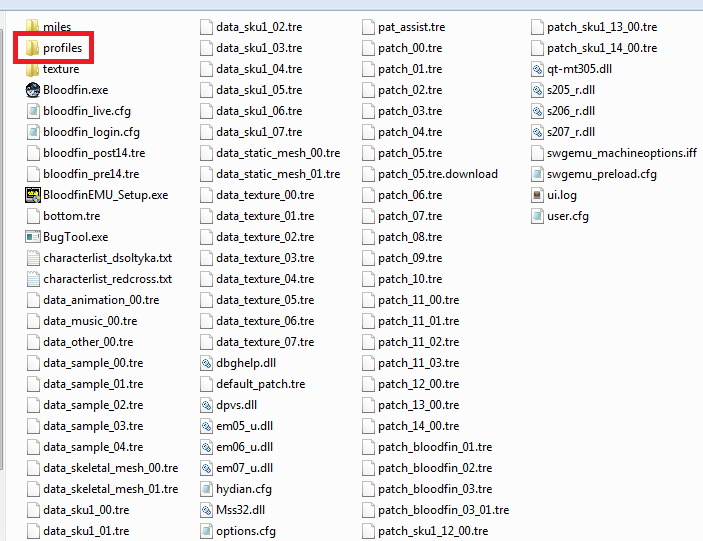 You will need to copy the profiles folder from it's existing location and place it where the launcher has downloaded the Emu files. For example, if the launcher placed the Emu files in C:\Program Files (x86)\Bloodfin.Net\Emu, you will want to copy your profiles folder there.
The same will need to be done for any mods (texture packs, etc) that you have installed.
Migrate an existing installation to avoid downloading the Bloodfin data again (Advanced, not recommended)
If you absolutely must migrate your preexisting installation so as to avoid downloading the Bloodfin data again, follow these instruction. NOTE: This is not recommended and we cannot provide a ton of support for this.
If you have a decent internet connection and can afford to download 2Gb of data, we highly recommend performing a normal installation and then following the instructions to migrate your profiles, mods, etc.
Once the launcher has been installed, do not hit Install. Simply close the launcher.
You will need to copy ALL of the data from your prexisting Bloodfin installation to the Emu folder that the launcher would have downloaded to. For example, if you installed the launcher to C:\Program Files (x86)\Bloodfin.Net, you will need manually create the Emu folder (C:\Program Files (x86)\Bloodfin.Net\Emu)
Navigate to wherever you have a preexisting Bloodfin installation in Windows Explorer. You should have a bunch of .tre files, Bloodfin.exe, etc.

Copy ALL OF THE DATA IN THAT FOLDER into the Emu folder you created in Step 2.
Launch the launcher and hit Install. It should verify all the data in the Emu folder.
If the launcher errors out, or complains about something, we highly suggest uninstalling the launcher completely, allowing the uninstaller to remove all Bloodfin data, and reinstalling. Again, this is not a recommended method for installation as we have no idea what you are copying / moving into the Emu folder and supporting the plethora of things that may go wrong is impossible.
Uninstallation
Why are you reading this. You should never uninstall the Bloodfin files. You should stay forever!
That said, uninstallation is a breeze.
Run the uninstaller either from the Start Menu or Add / Remove Programs, just as you'd uninstall anything else. After hitting next on the first page, you will be presented with the following options:
The first option will preserve your profile data and move it to a Bloodfin Profiles folder on your desktop. Useful in case you are simply performing an uninstall / reinstall in order to correct something.
The second option will remove ALL of the downloaded Bloodfin Emu files. Useful if you have concluded your time with Bloodfin and wish to uninstall everything
The third option will only uninstall the launcher and maintain the Emu folder. Useful if you are having launcher issues and plan on reinstalling the launcher to it's previous location (as you will not need to download all of the Bloodfin data again).
Community content is available under
CC-BY-SA
unless otherwise noted.