Obtaining SWG Client
We can not provide you with SWG Client. You are responsible for having a legitimate Original copy of SWG Client to play with. Each account must have a copy of the cd's to be able to play. Again we do not provide you with the game client, you are responsible for getting that. Any version of the game will work from the numerous version released other then a trial client. You can purchase the gaming cd's for cheap from Ebay, and or Amazon.com.
We have implemented a temporary method for getting your client/game set up and allowing you to join us on the BloodfinPhoenix Server. Presently, there are two provided methods you can utilize to get a full game client that is pre-configured for BloodfinPhoenix; they are available to you via the following download links:
decryption key - N5KMERqOKpM7Ad3RH9orVAMt8IxnXu9d0GPjQfeFtog
-OR-
https://www.dropbox.com/s/qrhcqjdbvwi9xdp/Bloodfin%20Phoenix.rar?dl=0&fbclid=IwAR2Kx5oITIkhTvokl-y52xi7bb1mKzZfMXmzwrorBzSmONO_9ixZl_2b9Kw
Players report an easier time with link 2;
Once download, use Winrar (https://www.rarlab.com) to extra the entire contents to desired location. Once done, open the folder and run Bloodfin.exe. You can also take this time to open the BloodfinEMU_Setup exe in order to pre-configure the client to your preferences.
Here's the missing tre update Close out all game windows. Click the link, download the zip, upzip and paste the two files into your bloodfin folder. It will ask to over write bloodfin_live.cfg. Click yes. Relaunch the game. https://www.dropbox.com/s/lo89ogwjseii89b/bf_tre_update.rar?dl=0
Account Creation
At present, we are not allowing automated account creation. If you need an account, please send an e-mail to Accounts@Bloodfin.net; requests are typically handled within 24 hours; additional account requests should also be sent to the same.
Attention Guild Leaders….. Guild Masters can apply for a Guild account. This account can have 2 characters your Ent and Doc. Any other toons on the account will be banned with no access to them, or anything they may have owned. You must provide who will have access to these accounts so when IP checks are done we know they are allowed access to it. This also protects you as a Guild in case someone gets access to the account that should not have it.
Launcher
After you have sent in your email for you account, you can then Download the Official Launcher of Bloodfin below.
http://bloodfin.net/patch/launcher_setup.exe
Game Client
https://bloodfin.net/StarWarsGalaxiesCompleteOriginalDiskSet.rar
Migrate your profiles and mods from an existing installation
If you have already been playing on Bloodfin you will likely want to migrate any profile data (UI / hotbars, etc) and mods over to the installation created by the launcher. This is easy.
Navigate to wherever your preexisting Bloodfin installation is located in Windows Explorer. You should see something that looks like this: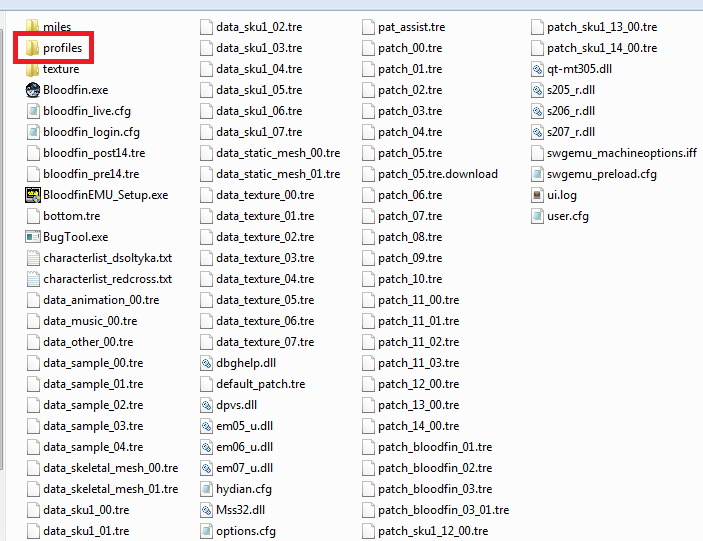 You will need to copy the profiles folder from it's existing location and place it where the launcher has downloaded the Emu files. For example, if the launcher placed the Emu files in C:\Program Files (x86)\Bloodfin.Net\Emu, you will want to copy your profiles folder there.
The same will need to be done for any mods (texture packs, etc) that you have installed.
Migrate an existing installation to avoid downloading the Bloodfin data again (Advanced, not recommended)
If you absolutely must migrate your preexisting installation so as to avoid downloading the Bloodfin data again, follow these instruction. NOTE: This is not recommended and we cannot provide a ton of support for this.
If you have a decent internet connection and can afford to download 2Gb of data, we highly recommend performing a normal installation and then following the instructions to migrate your profiles, mods, etc.
Once the launcher has been installed, do not hit Install. Simply close the launcher.
You will need to copy ALL of the data from your prexisting Bloodfin installation to the Emu folder that the launcher would have downloaded to. For example, if you installed the launcher to C:\Program Files (x86)\Bloodfin.Net, you will need manually create the Emu folder (C:\Program Files (x86)\Bloodfin.Net\Emu)
Navigate to wherever you have a preexisting Bloodfin installation in Windows Explorer. You should have a bunch of .tre files, Bloodfin.exe, etc.

Copy ALL OF THE DATA IN THAT FOLDER into the Emu folder you created in Step 2.
Launch the launcher and hit Install. It should verify all the data in the Emu folder.
If the launcher errors out, or complains about something, we highly suggest uninstalling the launcher completely, allowing the uninstaller to remove all Bloodfin data, and reinstalling. Again, this is not a recommended method for installation as we have no idea what you are copying / moving into the Emu folder and supporting the plethora of things that may go wrong is impossible.
Community content is available under
CC-BY-SA
unless otherwise noted.